Texas Lakes Visitors Guide Since 2002
Celebrating Great Years!
Canyon Lake
"Where Water Sports Are King"
Located on the Guadalupe River in Comal County, Texas, Canyon Lake has 80 miles of scenic shoreline and covers an 8,230 surface acre area. It is one of the deepest lakes in Texas with an average depth of 43 feet. Canyon Lake is located approximately half way between San Antonio and Austin, approximately 14 miles northeast of New Braunfels on FM 306 west from IH-35.
There are five communities located around the shores of Canyon Lake. On the north side, there are Hancock and Canyon City. The Canyon Lake Marina is located on the north shore in the Canyon Park in Hancock. Two Yacht Clubs are also located on the lake.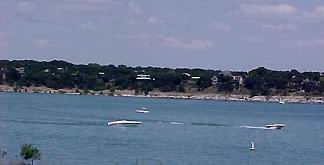 Canyon Dam is on the north side near Canyon City. The dam is 5 kilometers in length and rises to a height of 224 feet above the river bed. Take a stroll across the dam and take some outstanding water scenery photos along the way.
On the south side of the lake are the communities of Sattler, Startzville, and Crane's Mill. Cranes Mill Marina is located on the south shore of Canyon Lake in Cranes Mill Park on FM 2673 in Startzville.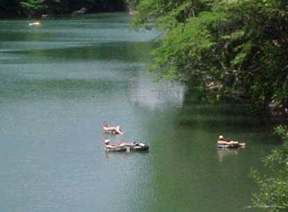 The U.S. Army Corps of Engineers manages eight public parks on the Canyon Lake shoreline. Cranes Mill Park and Comal Park are located on the south side and Potters Creek Park, Canyon Park, Jacobs Creek Park, North Park, Overlook Park, and Guadalupe Park are all on the north side. These parks offer camping, trailer, and picnicking areas, and boat ramps. Canyon Lake fishing is great and several record fish have been caught.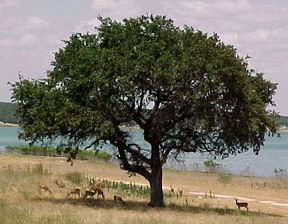 Nature lovers will find plenty to observe with the variety of sea birds. There are many white-tail deer around the lake areas and you will find them grazing in the front yards of many of the homes.
Planning on bringing your boat to Texas lakes?
Clean, Drain and Dry your boat to prevent the spread of zebra mussels and other invasive species.
on the Guadalupe River
Cabin Rentals, Vacation Rentals and RV Park located on the Guadalupe River 4 miles from Canyon Lake and a short drive to New Braunfels, TX. This scenic Texas Hill Country Resort provides the perfect vacation destination to enjoy Guadalupe River tubing, mini-golf, pools, hot tubs, playgrounds, sand volleyball and resort amenities. Also a perfect Canyon Lake venue and event space for weddings, family reunions, and corporate events.
Looking for a River Tubing Outfitter?
Looking for even more info on Canyon Lake, TX? Check out our sister site, Canyon-Lake.net!
Vacation Rentals

Lake Houses, Cabins For Rent
and RV Spaces are needed.
Our viewers are looking for vacation rentals on Texas-Lakes.net. If you have a vacation rental, we can bring you renters.

For information on this Website

Copyright © Highland Lakes Web Pages, LLC