Texas Lakes Visitors Guide Since 2002
Celebrating Great Years!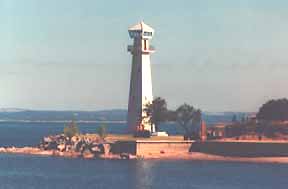 The photo above is a privately owned lighthouse near Buchanan Dam. It can be seen as you drive along at the south end of Lake Buchanan on Hwy 29.
Lake Buchanan is the largest of the first four Highland Lakes in Central Texas with a length of 30 miles and a width at the widest point of just under 5 miles and has a shoreline of 124 miles. When it was built, Buchanan Dam was considered to be the longest multiple-arch dam in the U.S. with a length of just over two miles. Lake Buchanan is located 60 miles northwest of Austin and 95 miles north of San Antonio. It is about 200 miles south of Dallas and Fort Worth and 200 miles west of Houston.
Burnet is 15 miles to the east of Inks Lake. Kingsland is 6 miles south and Llano is 15 miles to the west.
RV Parks, motels, bed & breakfast inns, cabins for rent and campgrounds are available along the lake. There are several cafes near the lake: one specializes in catfish, another in good old Texas B-B-Q and some with Texas home style cooking.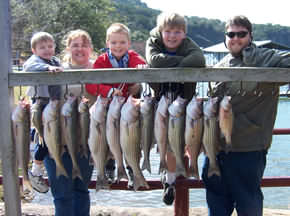 The lake is very popular with boaters, fishermen, campers and swimmers. The lake is so large that you will never feel crowded on the lake. There is always plenty of "elbow room" on each of the Highland Lakes. In 1995 over 1 1/2 million Striper Bass were stocked in Lake Buchanan. Fishing Guides are available to take you out on the lake.
There is a nice granite gravel shore around the lake providing an ideal beach for swimming, wading and sun bathing.
There are several popular wineries nearby where you can stop in for a little wine tasting and buy a bottle or two of Texas wine.
Planning on bringing your boat to Texas lakes?
Clean, Drain and Dry your boat to prevent the spread of zebra mussels and other invasive species.
Vacation Rentals

Lake Houses, Cabins For Rent
and RV Spaces are needed.
Our viewers are looking for vacation rentals on Texas-Lakes.net. If you have a vacation rental, we can bring you renters.

For information on this Website

Copyright © Highland Lakes Web Pages, LLC